Tobin Silver, Ph.D., CSCS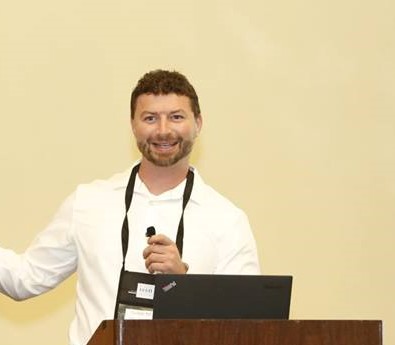 Professor and Practicum Director, Health and Human Performance
(954) 262-8090
tsilver@nova.edu
Office: HPD Annex - Rm. 132
Education:
PhD-Purdue University, 2010
MS-Barry University, 2005
University of Wisconsin-Eau Claire, 2003
Courses Taught:
EXSC 4200_Motor Learning/Development with Laboratory
EXSC 4901_Practicum in Exercise Science
EXSC 5200_Labratory Instrumentation
Certifications:
NSCA-CSCS
ACSM/EIM – Level I
Area of Research:
Nonlinear, linear, and temporal analyses of biological signals (human), trip recovery while walking, balance and posture, personal training, and community wellness.
Recent Peer-Reviewed Publications:
Silver, T. A., A. E., S. K., Peacock, C. A., J. T., Antonio, J. (2018). High and Low Impact Physical Activity Positively Influences Female Bone Density. To appear in Journal of Exercise and Nutrition.
 Antonio, J., Silver, T. A., Peacock, C. A. (2018). Body composition assessment of NFL Combine Athletes: DXA, BIS, Bod Pod. Journal of Exercise and Nutrition (JEN), 1(5).
 Mokha, G. M., Silver, T. A., Bommarito, P. (2021). NFL Draft Prep Players Improve 40-Yard Run Times and Foot-Ground Kinetics. Research Directs in Strength and Performance, 1(1), Article 4.