Join Health Care's Front-Line Warriors
As the world battles COVID-19, respiratory therapists (R.T.) continue to emerge as inspiring health care heroes. Millions of people gain a newfound respect for both the profession and the people in it, as they watch these dedicated professionals fight tirelessly alongside physicians to help patients survive.
As an R.T., you help people breathe easier: those suffering from asthma, chronic obstructive pulmonary disease (COPD), pneumonia, lung cancer and viruses like COVID-19 that directly attack the lungs and respiratory system. Many respiratory therapists will tell you this is more than a job — it's a calling. The role demands compassion, dedication, and strong internal motivation to save and improve others' lives.
Whether you aspire to become a R.T. or already practice and seek higher-level roles and earnings, Nova Southeastern University has the targeted respiratory therapy program to achieve your goals, including flexible online options for working R.T.s. Learn from experts in the profession, including experienced physicians and national respiratory therapy leaders.
Our profession needs more warriors! Join the R.T. ranks or soar higher as a leader and role model for others.
The Bachelor of Science in Respiratory Therapy First-Professional program is accredited by the Commission on Accreditation for Respiratory Care (CoARC).
NSU Florida Respiratory Therapy Programs
First Professional B.S. in Respiratory Therapy
Inspired to become a licensed R.T.? See why NSU alumni enjoy higher pass rates and employment rates — and what our program includes that most don't.
Post Professional B.S. in Respiratory Therapy
Already a Registered Respiratory Therapist? Qualify for bigger roles and earnings, without disrupting your job: Take three courses/term (100% online) and graduate in under two years.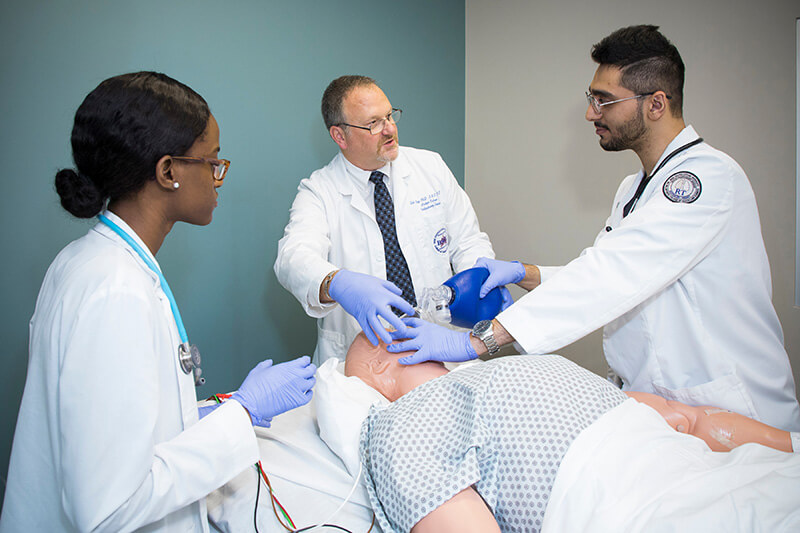 RRTs: Get College Credit for Your Experience
Ask us about NSU's 45-credit prior-learning block grant for registered Respiratory Therapists (R.R.T.). It rewards you with the credit you deserve for the experience you've already earned as an R.R.T. That's 45 credits of the 120 you need for your Post Professional B.S. in Respiratory Therapy program, saving you time and money.
Find out more
Career Outcomes
The employment rate for Respiratory Therapists is expected to grow 21% between 2018 and 2028 — "much faster than average" compared to all other occupations.
Source: Bureau of Labor Statistics, U.S. Department of Labor, Occupational Outlook Handbook, Respiratory Therapists
2019 median annual pay for respiratory therapists
Source: Bureau of Labor Statistics, U.S. Department of Labor, Occupational Outlook Handbook, Respiratory Therapists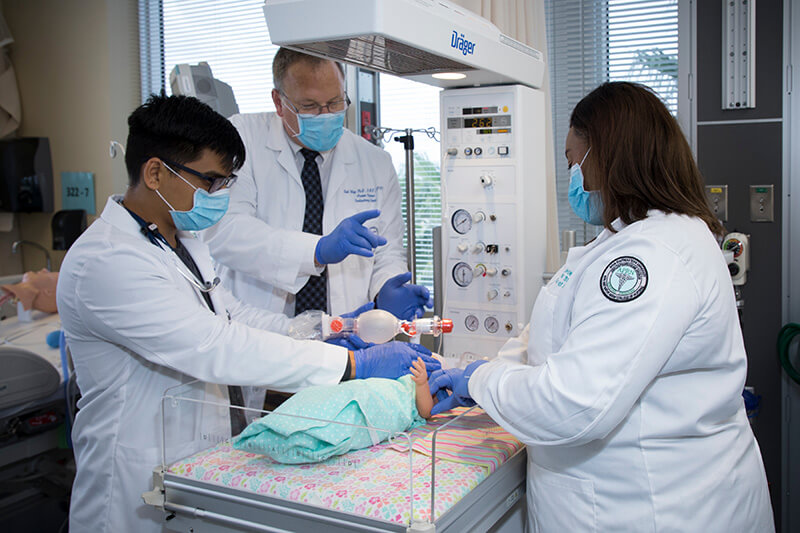 Where Do Respiratory Therapists Work?
Hospitals
Rehabilitation centers
Skilled nursing care facilities
Physicians' offices
Diagnostic laboratories
Sleep disorder centers
What Do NSU Respiratory Therapy Programs Offer That Others Don't?
If you want to become a licensed respiratory therapist
Train in elite environments few programs can match:
Leading-edge labs
Simulation suites
Gain MORE clinical hours than most programs provide:
Deeper preparation to handle on-the-job challenges
Extra confidence as you start your new career
Choose to be a proven R.T. leader. NSU grads:
Receive distinguished Respiratory Therapist Credentialing Success Award
Have 100% satisfaction (based on graduate surveys)
If you're already a registered respiratory therapist
Earn your Bachelor's degree while working full time:
Study from anywhere, at any time that's convenient for you
No disruption to your job or work shift
Pursue rewarding management, research or teaching roles:
Explore new fields or emerging topics
Add the Health Care Management specialization: prepare for financial or other leadership opportunities
Save money and time: get credit for experience you've earned
Your R.R.T. credential provides a 45-credit prior-learning grant
Just three classes per term graduates you in less than two years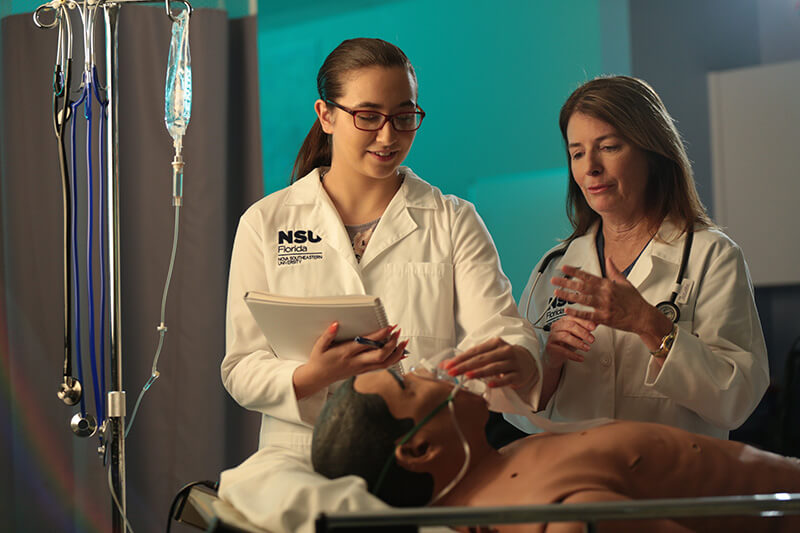 Learn from Physicians and R.T. Leaders
Every professor has built a successful track record as a practitioner with many years of leadership experience in their field. Our faculty includes both physicians and senior RTs that navigate the same challenges you soon will. Just as importantly, they are caring, engaged educators, passionate about guiding the next generation of respiratory therapy leaders forward.
Meet Your R.T. Faculty