NSU CAAHEP-Accredited Programs are National Standouts
Without the Certified Anesthesiologist Assistant (CAAs) in the room, surgery cannot happen. That's how important you are to the Anesthesia Care Team, and every O.R. team. CAAs enjoy one of the most respected and highest-paying allied health career paths that have a strong projected job demand over the next two decades.
Anesthesiologist Assistant Schools: Why NSU?
We are the largest educators of CAAs in the U.S. Our CAAHEP-accredited degree programs* include important advantages you won't find elsewhere:
Unique Learning Technology and Resources
Two fully functional operating rooms with high-fidelity simulation training
Adult and pediatric human patient simulators
Medical exam rooms
Highly equipped regional anesthesia labs
Preoperative and postoperative labs
Dedicated course and lab in regional anesthesia techniques
Most Clinical Rotation Locations
More rotation sites than any A.A. program in the United States
Clinical rotation opportunities in various countries outside United States
Documented Alumni Success
100% of our program graduates have passed their Anesthesiologist Assistant certification examination on first attempt (Data source: last four consecutive years of graduating classes)
Our graduates have a 100% job placement rate
Explore NSU A.A. programs offered in Fort Lauderdale, Tampa Bay, Jacksonville and Denver
Each program prepares you to deliver the highest quality anesthesia care skillfully, confidently and compassionately. Start on your path to this rewarding, well-paid allied health profession.
*Fort Lauderdale and Tampa Bay A.A. Programs
Anesthesia Program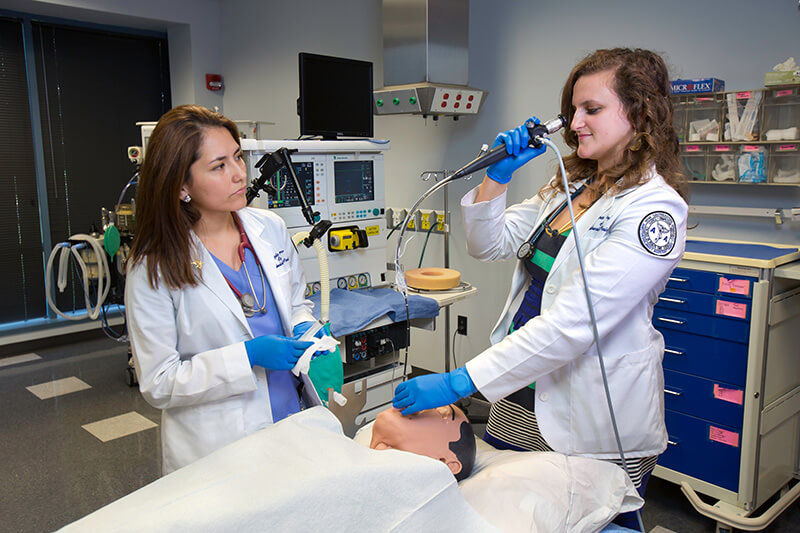 Master of Science in Anesthesia
Our comprehensive didactic and clinical graduate program assure you a comprehensive foundation in delivery and maintenance of anesthesia care and advanced patient monitoring.
Tell me More
Fast Facts
Average annual salary for Anesthesiologist Assistants
(Data source: last four consecutive years of graduating classes)
According to the AAAA," Many students receive multiple job offers before they even graduate.
High Professor to Student Ratio
= More Individualized Attention
With a high professor to student ratio, professors can give each student the individualized attention and support needed for success. Every faculty member is a licensed Anesthesiologist or Certified Anesthesiologist Assistant with a successful clinical track record, navigating the same challenges you soon will. Many, like our department chair Dr. Robert Wagner — the first licensed CAA in Florida — are highly influential, holding senior leadership roles in national and state associations. Just as importantly, every professor is a caring, engaged educator, enthusiastic about guiding the next generation of CAAs forward.