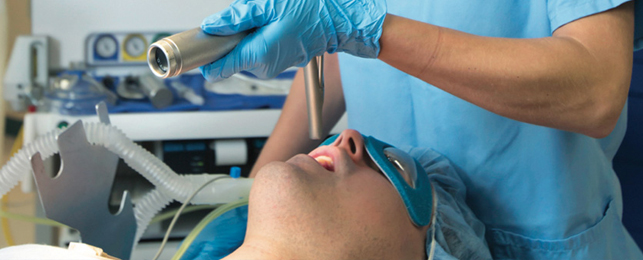 M.S. in Anesthesia - Fort Lauderdale
Admissions Requirements
Prospective Master of Science in Anesthesia students are selected by the Committee on Admissions (COA), which considers the overall qualities of the applicant. Areas of consideration include interpersonal skills, personal motivation, knowledge and understanding of the AA profession and the Anesthesia Care Team, academic performance and level of achievement, life experiences, and recommendations. Personal interviews are offered to the most qualified applicants to assess interpersonal and communication skills, altruistic attitude, maturity, and commitment to the AA profession and anesthesia care team model. All application materials must be submitted to NSU by March 15th.
Baccalaureate degree from a nationally recognized and accredited college or university, including above average performance in courses required in a premed curriculum. (Refer to required courses below.)

Note: a "C" or better is required in all prerequisite classes. In order to meet pre-requisite requirements, math and science courses must include sufficient rigor and detail in the discipline (Introductory, survey, or business courses will not satisfy the requirements).

Required Courses


General Biology with Lab OR Anatomy and Physiology with Lab – 2 Semesters
General Chemistry with Lab – 2 Semesters
Organic Chemistry with Lab – 1 Semester
Biochemistry – 1 Semester
General Physics with Lab – 2 Semesters
Calculus – 1 Semester
English – 1 Semester


Preferred Courses - Not Required


*Anatomy – 1 Semester
**Anatomy Lab – 1 Semester
*Physiology – 1 Semester
**Physiology Lab – 1 Semester
Organic Chemistry – a second Semester
*Microbiology – 1 Semester
**Microbiology Lab – 1 Semester
*Cellular and molecular biology – 1 Semester

*An advanced course in these subjects are preferred and would meet 1 semester of the General Biology requirement.

**These courses are preferred and would meet 1 semester of the General Biology Lab requirement.

Official transcripts of all undergraduate and graduate course work.
Applicants must have a minimum cumulative GPA of 2.75 on a 4.0 grading scale. A minimum GPA of 3.25 is preferred.
Graduate Record Examination (GRE) or Medical College Admissions Test (MCAT)scores must have been taken with the past five years and must be taken early enough for official scores to be received by admissions office by the application deadline of March 15. Information can be obtained from the GRE website and the MCAT website.
Three letters of recommendation from persons familiar with the applicant's prior academic performance, potential, character, work habits, and suitability for graduate study leading into a career in clinical practice.
At least eight hours of documented anesthesia exposure by observation in the operating room.
Summary of an article published in a current anesthesia journal.
All applicants must show evidence of computer skills through coursework or self-study prior to the end of the first semester. Students may obtain instruction through the NSU Student Microcomputer Laboratory or other training facilities.
The applicant who has graduated from a college or university of a country for which English is not the primary language regardless of United States' residency status must do the following:

Applicant must obtain a minimum score of 600 on the written (or comparable score on the computerized) Test of English as a Foreign Language (TOEFL). An official set of scores must be sent to Nova Southeastern University directly from the Educational Testing Service, Princeton, NJ.