The athletic training major is designed to prepare students to become certified athletic trainers who specialize in injury and illness prevention, assessment, treatment, and rehabilitation for physically active people. The curriculum provides a balance between classroom instruction and clinical experience that prepares students to become competent allied health care professionals.
NSU's athletic training major, established in 2003, is accredited by the Commission on Accreditation of Athletic Training Education (CAATE), effective March 2007. Athletic training students will graduate with a Bachelor of Science degree in Athletic Training and will be eligible to sit for the Board of Certification (BOC) examination. The athletic training major is designed to ensure that students who graduate from the program meet all requirements necessary to pass the BOC examination.  For information on the Athletic Training Program Policies and Procedures see the NSU ATP Student Handbook.
Learning Outcomes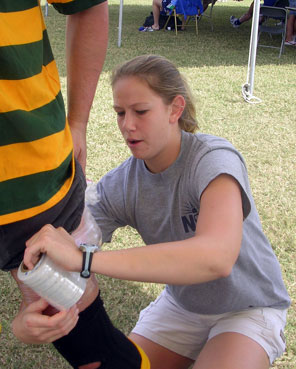 A successful athletic training graduate is expected to:
Demonstrate the ability to prevent, evaluate, treat, rehabilitate, and document athletic related injuries in the of field of athletic training;
Analyze and comprehend the physical, psychological, and emotional demands of physically active individuals and the sports medicine professionals involved in their care;
Develop the effective communication skills necessary for a successful allied health care career in athletic training;
Illustrate and differentiate the ethical practices as it relates to athlete/patient care.
Curriculum Requirements
General Education Requirements (30 credits)
Students are required to complete 30 credit hours as part of the General Education Program.
Athletic Training Major Requirements (68 credits)
During the athletic training major's pre-professional phase (first two semesters), students must successfully complete (i.e., earn a C or better in) all introductory courses: ATTR 1100 Introduction to Athletic Training, ATTR 1200 Principles of Athletic Training, and ATTR 1300 Emergency Care and First Aid. During the pre-professional phase, students are also required to spend 100 hours observing certified athletic trainers in a variety of settings. Completion of the pre-professional phase (or the Pre-Athletic Training Program) does not guarantee admission into the athletic training major (professional phase). It is a competitive matriculation process.
Core Courses (63 credits)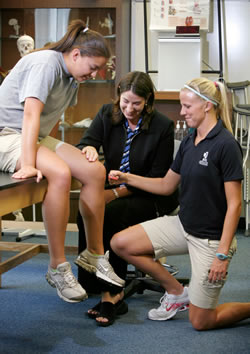 The academic program and curriculum requirements listed on this page are from the 2018-2019 edition of the NSU Undergraduate Student Catalog. Students are bound by policies and curricula published in the catalog in effect the semester they enter the university, unless an agreement is made with appropriate NSU administration officials allowing them to abide by policies published in a later catalog. 
View sample 4-Year Academic Plan
Clinical Experience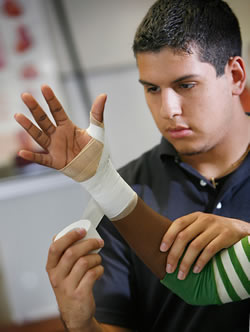 The Clinical Experience I, II, III, and IV courses have been developed to provide quality experience, "teaching moments," and interaction with certified athletic trainers (ATCs) in and out of the classroom. Each course will include evaluation and assessment of athletic training students' clinical skills along with monitoring of clinical rotations. Additional special projects and assignments will be included to enhance student learning.
On-Campus Sites
NSU NCAA Division II. Athletics
University School (Private High School)
NSU Health Profession Division Medical Clinics
Off-Campus Affiliated Sites
Nova High School, Davie, Florida
Pine Crest High School, Fort Lauderdale, Florida
St. Thomas Aquinas High School, Fort Lauderdale, Florida
Cleveland Clinic, Weston, Florida